Cashmere Bark | Est. 2001
How it Started
The Cashmere Bark accessories line began with one shocking pink makeup bag and one bag led to another.
I was living in Berkeley, California in the spring of 2001 and wandered into a little bohemian boutique on San Pablo Avenue full of jewelry, art and home decor owned and run by jeweler Melissa Rallis. I was wanting red walls in my life, and this shop had them (at the time).
I told Melissa I had been sewing just about my whole life, and liked to make things. She invited me to bring something in to show her. I went home and made the first makeup bag, inspired by a shiny black faux patent leather Esprit makeup bag that I owned (and still do).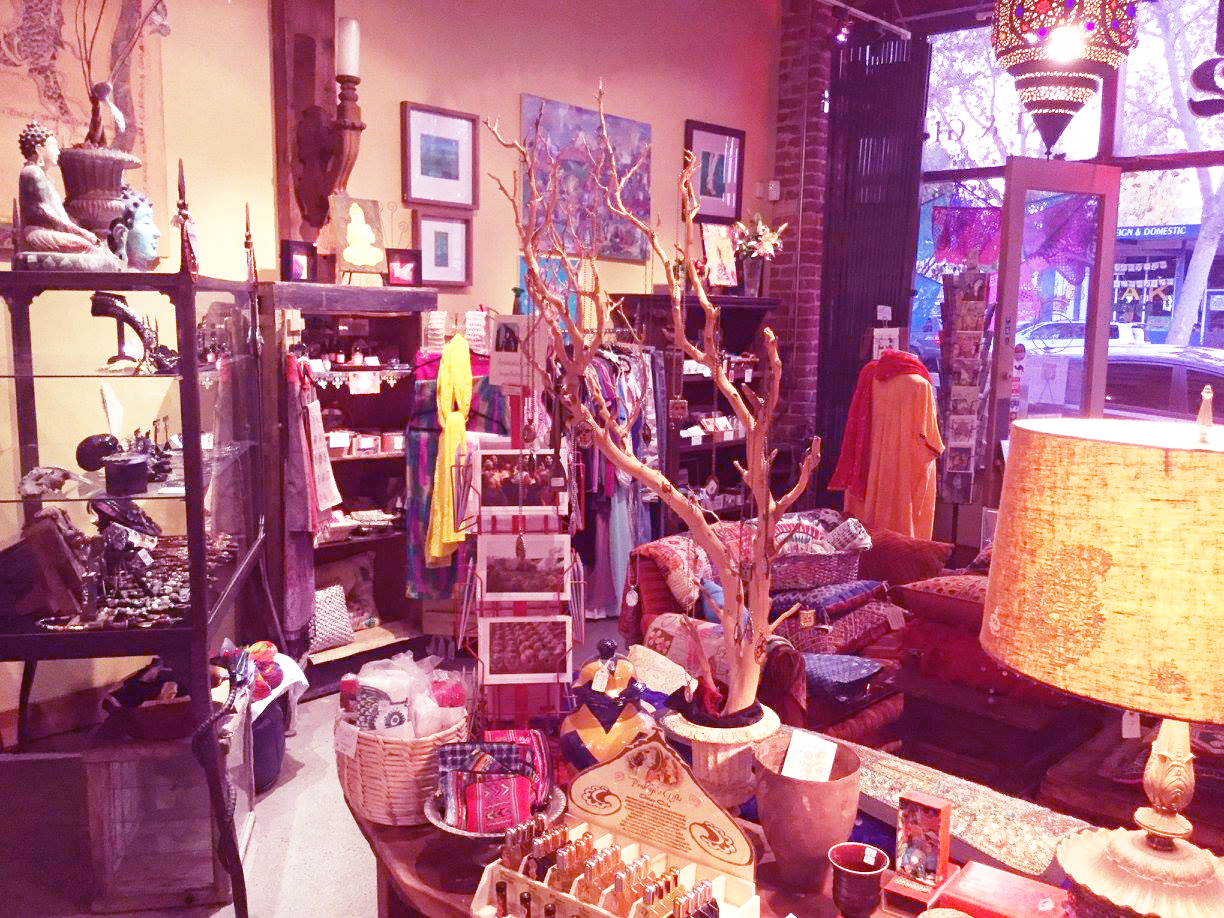 The brand name had already materialized several months before. A friend had given me a domain name for my birthday and asked which one I wanted. I reached over and picked up a jar of the Ayurvedic herbal elixir Amrit Kalash and read through the ingredients. "Cashmere Bark dot com!" I no longer find it on the packaging of Amrit, but at the time the jar's label had said, "prepared in extract of Cashmere Bark".
I pieced together a colorful cotton print fabric with a scrap of fuchsia pink silk doupioni from a prom dress I had made in high school. I threaded a ribbon through glass beads taken from a bracelet I had never worn, and tied them onto the zipper pull. Melissa ordered six of the bags for her shop. They sold and she wanted more of them. I was never able to find that cotton print fabric again, so the line took off in other directions…mostly into the world of Chinese silk brocades. I started collecting fabric from all over the Bay Area and shopped for it online.
Eventually, the beads that hung off the zipper pulls started inspiring jewelry designs and Sarah Miller Jewelry was born about a decade later.
Today, I still create to bask in color and texture while living mostly outside the corporate world. Working at home in my studio lets me put my spiritual practice first, and be available to the world (or not) however I am needed and want to contribute…on my own terms, and calling my own shots. I have been a freelance marketing and web designer since the mid-2000's. At one point, I was the Senior Marketing Designer for Overland.com (my dream job at the time). Freedom in my schedule lets me study Vedic (ancient Indian) bodies of knowledge and work in my garden, making medicinal flower essences according to Nature's divine schedule of bloom.
Thank you, friends and family, for your support of my creative projects through the decades!
XO Sarah
A little more trivia about my creative adventures…
I played violin on TV with Melissa Reiner before it was cool (we were in grade school in the 80's).
In 1997, I fulfilled my high school dream of studying traditional West African dance in Senegal, West Africa.
Selections of my 2002 photography show Headdresses and Costume Changes: A 15-year Retrospective are in the Beinecke Rare Book and Manuscript Library at Yale University. The pieces are part of the Women in Photography International Archive curated by Peter Palmquist (who helped me with my show).

Commercial Design
aperiam, eaque ipsa quae ab illo inventore veritatis et quasi architecto beatae vitae dicta sunt explicabo. Nemo enim ipsam voluptatem quia voluptas sit
Residential Design
Sed ut perspiciatis unde omnis iste natus error sit voluptatem accusantium doloremque laudantium, totam rem aperiam, eaque ipsa quae ab

Interior Design
At vero eos et accusamus et iusto odio dignissimos ducimus qui blanditiis praesentium voluptatum deleniti atque corrupti quos dolores